Loss of TMEM106B potentiates lysosomal and FTLD-like pathology in progranulin-deficient mice
EMBO Rep. 2020 Oct 5;21(10):e50241.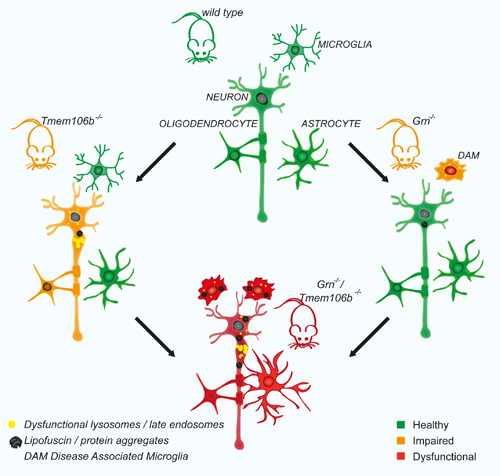 Loss of TMEM106B expression aggravates the mild phenotype of Grn knockout mice. This result suggests that the FTLD-associated TMEM106B SNPs might result in partial loss of function.
• Early motor deficits occur in young Grn/Tmem106b double knockout mice.
• Accelerated microgliosis and astrogliosis occur in young Grn/Tmem106b double knockout mice.
• Accumulation of lipofuscin, autophagy adaptor proteins and cargo in young Grn/Tmem106b double knockout mice implies dysfunctional autophagy.
• Aggregation, processing and hyperphosphorylation of TDP-43 occurs only in Grn/Tmem106b double knockout mice.
Abstract:
Single nucleotide polymorphisms (SNPs) in TMEM106B encoding the lysosomal type II transmembrane protein 106B increase the risk for frontotemporal lobar degeneration (FTLD) of GRN (progranulin gene) mutation carriers. Currently, it is unclear if progranulin (PGRN) and TMEM106B are synergistically linked and if a gain or a loss of function of TMEM106B is responsible for the increased disease risk of patients with GRN haploinsufficiency. We therefore compare behavioral abnormalities, gene expression patterns, lysosomal activity, and TDP-43 pathology in single and double knockout animals. Grn-/-/Tmem106b-/- mice show a strongly reduced life span and massive motor deficits. Gene expression analysis reveals an upregulation of molecular signature characteristic for disease-associated microglia and autophagy. Dysregulation of maturation of lysosomal proteins as well as an accumulation of ubiquitinated proteins and widespread p62 deposition suggest that proteostasis is impaired. Moreover, while single Grn-/- knockouts only occasionally show TDP-43 pathology, the double knockout mice exhibit deposition of phosphorylated TDP-43. Thus, a loss of function of TMEM106B may enhance the risk for GRN-associated FTLD by reduced protein turnover in the lysosomal/autophagic system.
Related Links