Loss of TREM2 rescues hyperactivation of microglia, but not lysosomal deficits and neurotoxicity in models of progranulin deficiency
EMBO J. 2022 Jan 12; e109108
Authors/Editors:
Anika Reifschneider
Sophie Robinson
Bettina van Lengerich
Johannes Gnörich
Todd Logan
Steffanie Heindl
Miriam A Vogt
Endy Weidinger
Lina Riedl
Karin Wind
Artem Zatcepin
Ida Pesämaa
Sophie Haberl
Brigitte Nuscher
Gernot Kleinberger
Julien Klimmt
Julia K Götzl
Arthur Liesz
Katharina Bürger
Matthias Brendel
Johannes Levin
Janine Diehl-Schmid
Jung Suh
Gilbert Di Paolo
Joseph W Lewcock
Kathryn M Monroe
Dominik Paquet
Anja Capell
Christian Haass

Publication Date:
2022
Type of Publication:
Journal Article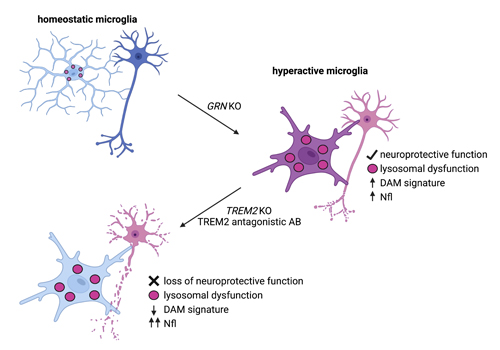 Patients suffering from progranulin (PGRN) associated frontotemporal lobar degeneration (GRN-FTLD) exhibit hyperactivated microglia, lysosomal dysfunction and TDP-43 deposition.
• Suppression of TREM2 reverses hyperactivation of microglia in models of PGRN deficiency.
• Hyperactivated microglia in models of PGRN deficiency retain neuroprotective functions.
• Lysosomal dysfunction is independent of microglia activation stages.
Abstract
Haploinsufficiency of the progranulin (PGRN)-encoding gene (GRN) causes frontotemporal lobar degeneration (GRN-FTLD) and results in microglial hyperactivation, TREM2 activation, lysosomal dysfunction, and TDP-43 deposition. To understand the contribution of microglial hyperactivation to pathology, we used genetic and pharmacological approaches to suppress TREM2-dependent transition of microglia from a homeostatic to a disease-associated state. Trem2 deficiency in Grn KO mice reduced microglia hyperactivation. To explore antibody-mediated pharmacological modulation
of TREM2-dependent microglial states, we identified antagonistic TREM2 antibodies. Treatment of macrophages from GRN-FTLD patients with these antibodies led to reduced TREM2 signaling due to its enhanced shedding. Furthermore, TREM2 antibody-treated PGRN-deficient microglia derived from humaninduced pluripotent stem cells showed reduced microglial hyperactivation, TREM2 signaling, and phagocytic activity, but lysosomal dysfunction was not rescued. Similarly, lysosomal dysfunction, lipid dysregulation, and glucose hypometabolism of Grn KO mice were not rescued by TREM2 ablation. Synaptic loss and neurofilament light-chain (NfL) levels, a biomarker for neurodegeneration, were further elevated in the Grn/Trem2 KO cerebrospinal fluid (CSF). These findings suggest that TREM2-dependent microglia hyperactivation in models of GRN deficiency does not promote neurotoxicity, but rather neuroprotection.
Related Links