Dieter Edbauer and Christian Haass are "Highly Cited Researchers 2020"
Each year, Clarivate™ identifies the world's most influential researchers ─ the select few who have been most frequently cited by their peers over the last decade. In 2020, about 0.1%, of the world's researchers, in 21 research fields and across multiple fields, have earned this exclusive distinction.
18.11.2020
Dieter Edbauer and Christian Haass were selected for their exceptional perfomances in the category "Cross-Field":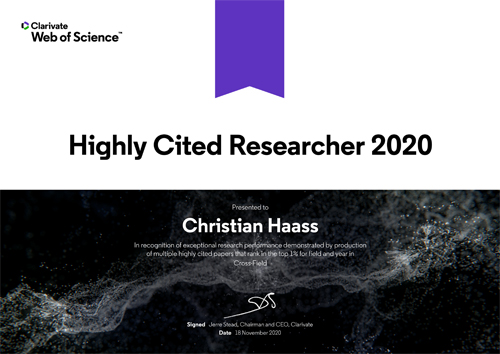 Highly Cited Researchers from the Web of Science Group is an annual list recognizing influential researchers in the sciences and social sciences from around the world. The 2020 list contains about 6,400 Highly Cited Researchers in 21 fields of the sciences and social sciences and among these about 2,500 Highly Cited Researchers identified as having exceptional performance across several fields. The list focuses on contemporary research achievement: only highly cited papers in science and social sciences journals indexed in the Web of Science Core Collection during the 11-year period 2009-2019 were surveyed. Highly cited papers are defined as those that rank in the top 1% by citations for field and publication year.
Related Links